Great Ormond Street Hospital (GOSH) wants to give every child the best chance to be home for Christmas.
The incredible staff work round the clock, with world-class care and expertise, to make that chance happen.
And although some children need to stay in hospital over Christmas, GOSH staff bring a festive feeling to the wards.
They make GOSH feel like a home from home and bring happiness to the hospital.
Watch our film below.
Everyone at GOSH is dedicated to getting children home to their families. And this year their commitment and kindness shines through more than ever.
Donate to our 2020 Christmas appeal to help GOSH get more children home to their families. And make GOSH feel like a home from home for those that need to stay this Christmas.
Mia gets home for Christmas
Mia's story
For our Christmas film, we wanted to feature some real GOSH patients. This brought us to Mia and Amy.
These delightful sisters are the stars of the show.
A rare condition
Mia (5) and Amy (9) were both born with a rare neurological condition.
Mum Sam and dad Darren were told they were the only people in the world to have two babies born with it.
"I think I cried every day," Sam says. "But the care at GOSH is phenomenal and we knew we were in the best place possible."
At just three weeks old, Mia was diagnosed with the same condition as her big sister - by the same doctor who saw Amy.
"We knew she would get the treatment she needed at GOSH. It was upsetting but understanding what was happening made a huge difference."
Staying close to Mia
"When Mia was at GOSH, we were lucky that Darren could stay in the family accommodation close by," says Sam.
"Having somewhere to stay is a real weight off your mind. It made a huge difference to us, both emotionally and practically."
This vital family accommodation is funded by donations to GOSH Charity.
Festive cheer at the hospital
Sam remembers how GOSH brought Christmas joy to the children and their families.
"When you've a child in hospital it's so easy to fall into a bubble and forget the outside world. 
"But I would read the paper stockings with messages on them for patients and families, written by lovely supporters, and it got me excited for Christmas."
Two days before Christmas, and after three weeks of treatment, Mia went home.
Mia watches the animation for the first time
"It was an absolute joy to transform Mia into an animated character," said filmmaker Marlies van der Wel.

"With this little super hero already spreading her magic in real life, it was our task to create a world expressing the same joy, magic and charm that beams from her face when she comes running down those stairs."
"I love to address big themes in small packages. Little Mia is the true embodiment of this principle ."
Thankful to GOSH
Amy has made a full recovery and it looks like Mia will too. 
"Without the specialists at GOSH, we might not have our little family. They really support us as parents, as well as caring for our girls," says Sam.
"We will be forever thankful to them."
Your support can help more children like Mia.
Of course Mia isn't the only child who has been home for Christmas thanks to the hard work and dedication of the GOSH teams.
Huge thanks to all the GOSH patients and families who sent us these smiley festive faces.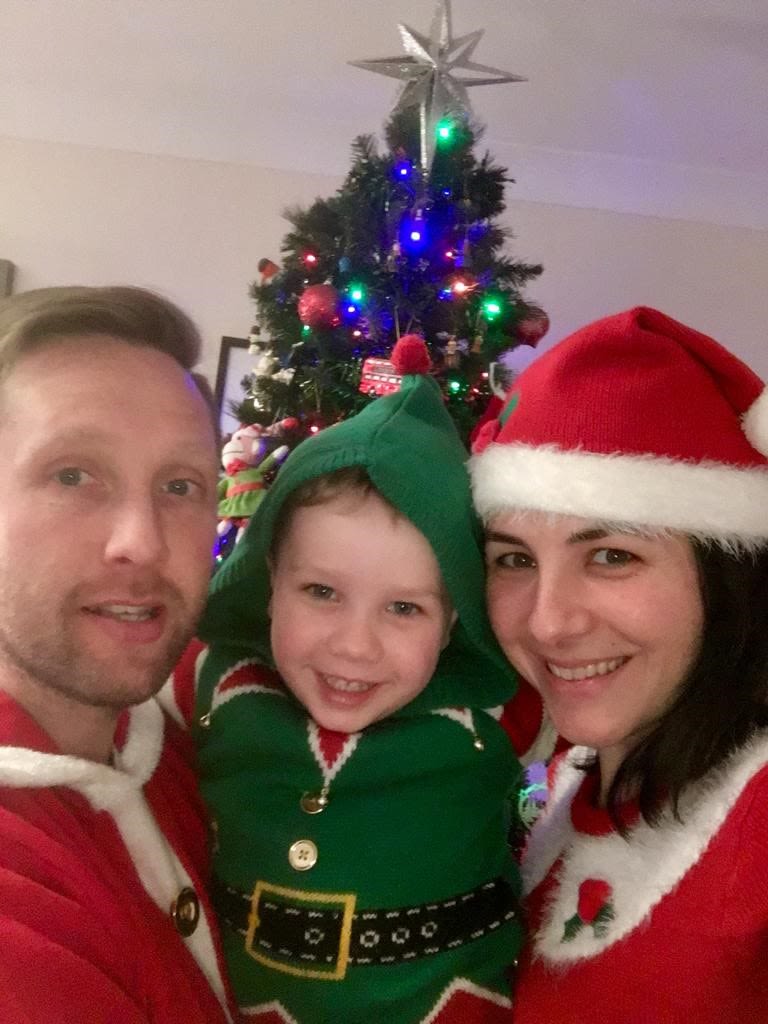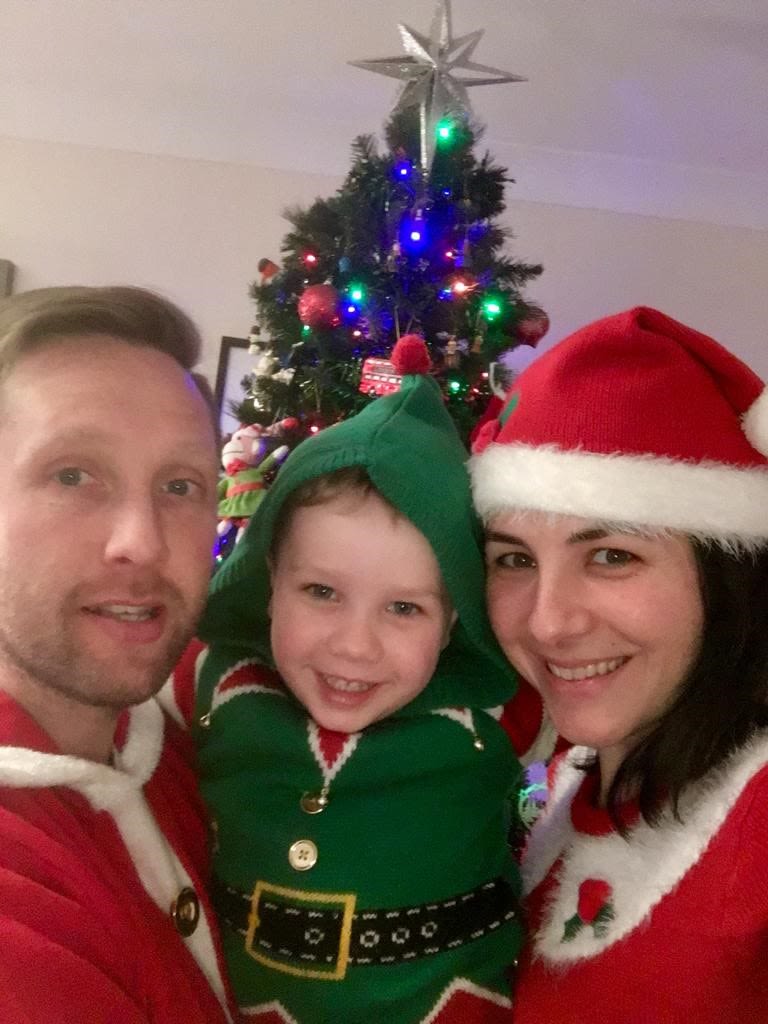 Children sometimes need to stay in hospital over Christmas. So GOSH staff create a magical atmosphere, making it feel like a home from home.

The excitement begins to build in the days leading up to Christmas.

The children see decorations spring up around the wards. They hear Christmas music playing and nurses singing along.

And they wake up wondering what the cheeky Elf on the Shelf has got up to overnight!

The nurses get presents ready for the children so, on Christmas Eve, they can put pillowcases filled with toys at the end of each child's bed.
Children are woken to cheerful cries of 'Santa's been!' on Christmas Day. Then everyone, including parents, tucks into a delicious Christmas dinner.

Supporting our Christmas appeal means mums and dads can stay close by their children in GOSH family accommodation. So the children are never without their family.

Your support also means the Play team can make every day as fun as possible for the children.

By using play to prepare for treatments and support recovery they help every day to feel more normal for the children.

This year, GOSH staff will make sure the hospital feels just as festive, while following COVID-19 safety guidelines.


By donating to our 2020 Christmas appeal your support makes all this possible.
Ward Sister Melissa's
GOSH Christmas
GOSH at Christmas
Melissa is a Ward Sister on Koala Ward. She's loved working at GOSH over Christmas.
In fact, she loved it so much, she did it for 15 years (yes, 15 years) in a row.
"I worked every Christmas at GOSH from the time I trained until I had my daughter. I just loved it!
"Every time I worked on Christmas Day, it was about trying to make it the best situation possible for families.
"Although the children aren't at home, there are lots of activities they can get involved with and it's really fun. 
"The Play team and the nurses are fantastic at bringing Christmas joy to the wards. The parents often recognise the importance of it too." 
Caring for each other
"We're like a big family at GOSH and look after each other. Staff who can't get home this Christmas due to COVID-19, have chosen to work, to be part of the joy of Christmas in this very special place.
"We always try to make the experience at GOSH the best it can possibly be all year round. We just have that extra bit of magic at Christmas time!" 
Cared for by supporters
"If we didn't have your amazing support, we wouldn't be able to do a lot of the things we do for the children and their families.
"The resources we have at GOSH, because of people's kindness, compassion and generosity, directly impacts the children we're looking after." 
Help support nurses like Melissa and the children they care for by donating to our Christmas appeal.
Thank you to all the patients and families who made this possible.
Thank you to our creative partners adam&eveDDB.
And to all the staff at GOSH and our wonderful supporters... Evie has a quick message for you.
With huge thanks to our partners Hearts & Science and OMG who have secured media free of charge thanks to Ocean Outdoor, JCDecaux, Verizon, News UK, The Guardian and The Telegraph.