Stories of children with cancer at GOSH
The new Children's Cancer Centre at GOSH will help children with the hardest to treat cancers. Meet some of the children that have been treated at GOSH.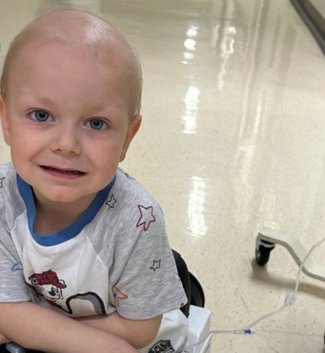 Meet three-year-old Hugo
Hugo arrived at GOSH just before Halloween last year to receive treatment for hepatoblastoma – a rare type of liver cancer.
Since then, Hugo's undergone chemotherapy and a successful liver transplant. Today, he's doing well.
His mum, Jasmin, shares their story.
Meet 11-month-old Ralphie
Ralphie was diagnosed with a type of blood cancer called acute myeloid leukaemia (AML) at GOSH. Since then he's been undergoing intense treatment at the hospital. Despite initially having a bad reaction to chemotherapy, today Ralphie is doing well.
His parents, Sophie and Luke, tell us more about Ralphie and their GOSH experience.
Meet three-year-old Yumna
Yumna is an outgoing and talkative child who loves dancing, singing and posing for pictures. In November 2021, she was diagnosed with neuroblastoma at GOSH.
Here, Yumna's mum Salma – who's been by her daughter's side every step of the way – recounts their GOSH journey so far.
Remembering Max
In August 2019, 11-month-old Max sadly passed away from a rare childhood cancer. He'd spent most of his life at GOSH.
His mum, Suzie, continues to fundraise in her son's memory, including running the TCS London Marathon in April.
Here, she tells us about Max and his time at GOSH.
Life on Elephant Ward for seven-year-old Archie and mum Aneta
The new Children's Cancer Centre will help children like seven-year-old Archie. His mum, Aneta, describes him as a smart, caring child who loves to play football and adores anything electronic.
His treatment will continue for the next two to two and a half years.