Former GOSH patient gets ready to fulfil childhood dream of running London Marathon
8 Sep 2022, 4:29 p.m.
Meet Amy from London. Until the age of 16, she received treatment from the "wonderful orthopaedics team" at GOSH for hip dysplasia.
Now 21, she's doing well and recently graduated from the University of Chichester with a degree in early childhood studies.
Here she tells us about her time at the hospital and why she's decided to follow in her dad's footsteps and take part in the London Marathon 2022 for GOSH Charity.
Arriving at GOSH for treatment
"When I was eight months old, a health visitor noticed I had unequal leg lengths during a routine check.
"An x-ray at my local hospital showed both of my hips were dislocated. I received a referral to GOSH, where I was diagnosed with hip dysplasia.
"In January 2002, when I was 10 months old, I was put into traction at GOSH. I think I stayed on Clarence Ward at the time.
"Traction involved my legs being strapped up and raised above my head whilst I laid on my back. I was in this position for a week. The purpose of this procedure was to try to stretch the muscles so that the ball of the hip joint could be put into the socket. If this was not successful then I would need surgery."
"(My condition) didn't stop me from doing anything"
"An x-ray showed traction had been successful for my left hip, but I needed surgery for my right. This surgery involved shaping the socket so that the ball of the hip could fit more easily.
"Following this surgery, I wore a hip spica cast for approximately three months. I then wore a brace for another three months.
"In October 2002, when I was 19 months old, the hip position had been lost so I had surgery to correct it.
"After these surgeries, I had yearly check-ups at GOSH and they kept me under review.
"(Around this time) I had no issues with PE or anything at school. I thought 'there's nothing wrong with me,' as it didn't stop me from doing anything."
One final surgery at GOSH
"In June 2012, when I was 11, I had further surgery. The ball of the hip was not sitting down enough in the socket so it was decided that the leg would be broken and the hip reset. A plate and screws were used to stabilise the leg. After surgery, I stayed at GOSH for a few days, on Sky Ward.
"I had the metal work removed in September 2013 and was then monitored at GOSH until I was 16."
Forever grateful
"GOSH has a really nice atmosphere. It's a welcoming environment.
"I received many years of wonderful care from all the staff there, particularly from my consultants Mr. Jones and, later, Professor Roposch. Everyone was always so lovely. I remember the Play team being great, and the physios as well. Everyone was so friendly.
"I will be forever grateful to the hospital for looking after me."
Taking on the London Marathon for GOSH Charity
"I like running – that's my main hobby. My passion for running has grown over the last few years, after starting out by taking part in 'parkrun'.
"I've always wanted to run the Marathon, mainly because my dad is also into running. He ran the London Marathon in 2008 for GOSH Charity as well – because I was a patient. He's taken part a couple of times.
"As a family we've always gone to watch the Marathon as supporters. And it's always been something I wanted to do myself, too. Funnily enough, I found an old diary entry recently; I had gone to watch the Marathon and I'd written: 'one day I'm going to run the London Marathon'.
"I decided to run for GOSH Charity because the hospital means a lot to me. Without GOSH, I probably wouldn't be able to walk or run or be where I am now. It's nice to be able to give something back.
"So far, training is going pretty well; I'm happy with how it's going.
"I've managed to get to half-marathon distance this week, which is a big thing for me to finally get to.
"I'm hoping to raise £2,000, and I'm at £1,200. So far, I've raised money mainly by sharing the link (to my fundraising page) with my family – luckily my friends have been supportive and have shared it with their families too.
"I've done two car boot sales and have done some car washing and jobs for my family (that they've sponsored me for).
"I've got a bake sale lined up in a couple of weeks, so that will hopefully raise some funds too."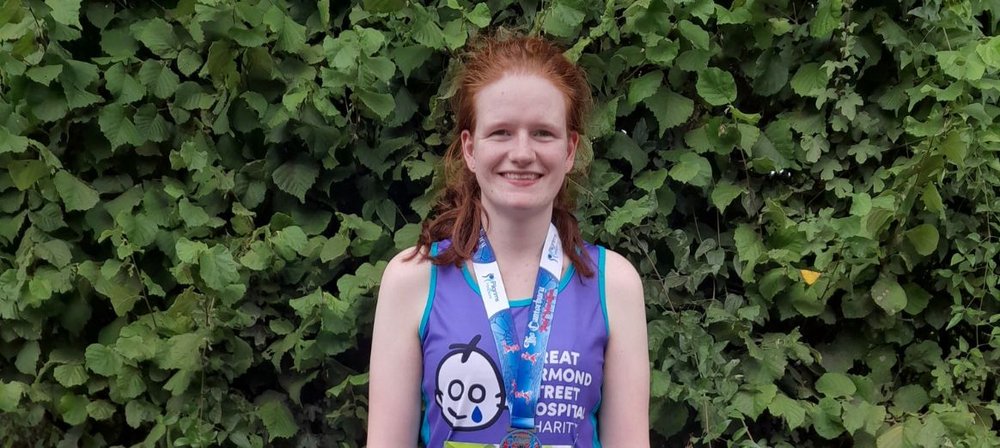 Advice for future GOSH patients
"To any future GOSH patients, I'd say: don't be worried, you're in safe hands at GOSH. Anything is possible. Looking back, I never thought I'd be able to get to the stage where I'd be able to run a marathon."