Royal Recognition for Dedicated GOSH Fundraiser
27 Jan 2021, 1:53 p.m.
Catherine was rushed to Great Ormond Street Hospital (GOSH), suffering from a serious heart condition, and told she would need a heart transplant. She and her family have since set up the Love Hearts Appeal, raising over £200,000 for GOSH. Father, Neil, received an MBE in December 2020 for his well-recognised work.
From Jersey to GOSH
It was Easter Sunday, 2006, when Neil received a phone call from his wife to say that Catherine had noticed she could feel her heart beating quicker than usual.
"This was a moment never to be forgotten," Neil says. "When I arrived, I listened to her heart with my stethoscope and realised this was not at all normal. I took her straight to our A&E department where one of my colleagues took me aside and showed me her chest x-ray."
At 15 years old, Catherine was admitted to an intensive care unit in Jersey. Once her condition stabilised, she was flown to GOSH by air ambulance.
She was diagnosed with a dilated cardiomyopathy and told she would need a heart transplant in the very near future. After returning home for just a few weeks, Catherine's condition deteriorated and she needed to return to GOSH for an internal defibrillator to be fitted.
Undergoing life-changing surgery
"During the procedure, Catherine's heart stopped... The amazing GOSH medical team managed to restart it but Catherine was seriously ill and was nursed in the very busy cardiac intensive care unit."
When Catherine woke, after having been on life support for just over a week, she had received her heart transplant.
"We didn't know if the donated heart would be a good enough match until the surgery was under way... We were so relieved to receive the news that all had gone well. At the same time, we felt intense sadness for the donor and their family, who had lost a loved one. Through their generosity, Catherine's life had been saved.
"Catherine was clearly upset to begin with but her strength and faith in those caring for her helped her deal with such a difficult illness.
"We have nothing but praise for Dr Mike Burch and his team at GOSH. Through his leadership and the hard work of so many at GOSH, Catherine survived her terrible illness and has been living a wonderful life ever since. If we can help others to do the same, we will do whatever we can."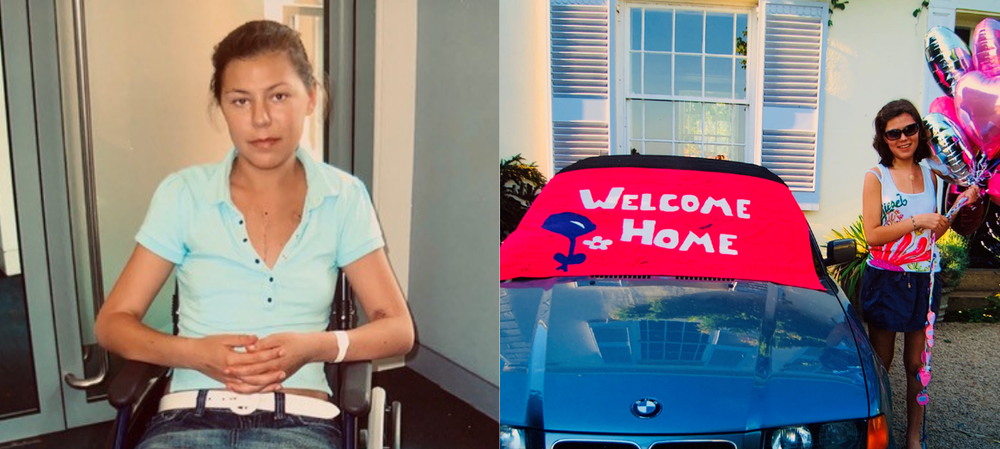 Catherine and the Love Hearts Appeal
Since her surgery, Catherine has gone from strength to strength, graduating from both Durham University and University College London.
In 2011, Catherine and her family set up the Love Hearts Appeal with Bill Bryson, the Chancellor of Durham University, as patron.
"Since, we have funded an intensive care cubicle in the new cardiac unit on Flamingo ward at GOSH and have raised over £200K to help fund a proposed research project which we hope will improve the lives of children who have received a heart transplant."
Catherine and her family are now raising funds to help develop a system that keeps the donated heart beating after removal from the donor. The heart will be perfused with oxygenated blood which will hopefully increase the number and success of paediatric transplant operations.
"The Love Hearts Appeal has also been doing what it can to raise awareness about the shortage of organs and the importance of talking to the family about this to try and help those who so desperately need that chance to survive.
"Her selfless commitment to the Love Hearts Appeal and the way she has dealt with her situation has been inspirational and we are so very proud of her."
Royal recognition
In December 2020, Catherine's father Neil was recognised with an MBE for his work within the health care sector.
"I received the news about my MBE in December, from a phone call from the Lieutenant Governor of Jersey, His Excellency Sir Stephen Dalton. I was in a lift at the time and believed the call was from a patient! When he repeated his name twice, I soon hopped out and assured him that I would most gladly accept the award of MBE!
"My celebration was indeed lively when I told my family at the Christmas table... we were so lucky to have Catherine and Hamish (Catherine's brother) with us at the time with Sophie (Catherine's Sister) on the phone."
Congratulations, Neil!
Find out more about the Love Hearts Appeal by watching our video
There was a problem loading the video. It could be an issue with your device or network.
Related content