Growing up with GOSH: Jake's story
16 Sep 2022, 10:57 a.m.
This October, Jake, a Studio Manager and Engineer originally from Norwich, will be taking part in our fun run RBC Race for the Kids.
Jake was a patient at GOSH for 14 years, treated for a rare condition called mid-aortic syndrome.
Here Jake tells us about his time at the hospital and why he chose RBC Race for the Kids as a way to give back.
The start of the journey
Jake first arrived at GOSH as a toddler.
He had recently finished treatment for neuroblastoma, which took place at his local hospital. Neuroblastoma is rare type of cancer that mostly affects babies and young children.
At GOSH Jake received a diagnosis for a very rare condition called mid-aortic syndrome.
"[It's where] the aorta [the body's largest artery] is too narrow to transfer what it needs to transfer," Jake explains. "[It] could have been a result of the treatment for the neuroblastoma, but [we] don't really know."
From that point, until he was 16, he had to have over 30 procedures at GOSH to manage and treat the condition.
"You kind of got this feeling: 'we're all in this together'"
Based in Norwich, Jake and his family had to travel back and forth to GOSH for appointments. The longest time he spent at GOSH was roughly a month.
During his overnight stays, his parents stayed in charity-funded accommodation near the hospital.
"I don't really remember a time, up until I was 16, when there wasn't at least a hospital visit in the works or I was in hospital," he says.
Despite having to undergo treatment, Jake has fond – and even fun – memories of his time in hospital.
"My earliest memory of GOSH is that there were games [including video games] and stuff that you could play," he says.
"...The element of play and the element of... you know...whispering to the kids in the bed next to you too late and someone coming in and telling you off... that was great," he says.
"That also came with some harsh realities – you know, kids that I became friends with who weren't as lucky as I was. But you kind of got this feeling, that we're all in this together – all kids having fun.
"I remember all the murals on the wall. I've actually got a Captain Hook tattoo on my arm in honour of the fact that there was Peter Pan stuff everywhere in the hospital. I've also got the Great Ormond Street logo tattooed on my arm."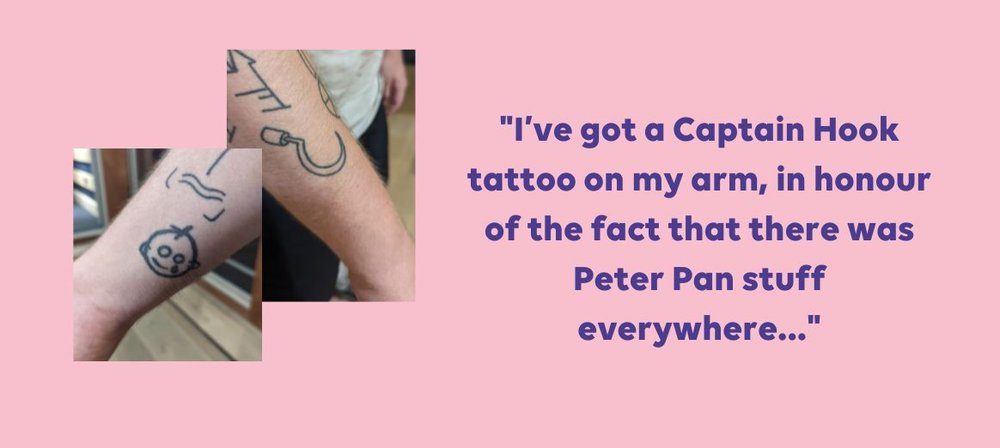 Remembering the staff at GOSH
As well as games and murals, Jake also remembers the staff at GOSH and how they treated him with a combination of kindness and respect.
"My parents made the decision early on to treat me as if things weren't too big for me to handle, and the doctors really honoured that," he explains.
"I just remember GOSH staff being kind. I think sometimes we try and romanticise that a bit – you know, 'they went above and beyond' – and they did, but also it was just basic human kindness. It was just people treating you very normally but also understanding that you're in exceptional circumstances. And I think that combination was pretty special. "
For Jake, the staff looking after him treated him "how [he] needed to be treated in that moment".
"I think the best thing was it wasn't one size fits all – they treated me differently to how they did every other child at GOSH. Every child was treated as an individual."
Treatment for mid-aortic syndrome
While at GOSH, Jake had over 30 operations for mid-aortic syndrome.
Most were similar to keyhole surgery but there were a couple that were much bigger.
"I have scars on my stomach that are literally from my sternum down to the top of my pelvis," he tells us.
Jake's last surgery at GOSH was when he was 16. He hasn't needed any operations since.
"I think doctors class me as not having mid-aortic syndrome anymore, because the aorta is – for all intents and purposes – fixed," he says. "It's the size that it needs to be."
Surgery isn't the only type of treatment Jake has needed for mid-aortic syndrome. He's been on medication every day of his life.
"There were points when I was younger when dad would have to wake me up during the night to take medication, and I'd have to take some during the day," he recalls. "Looking back [it must have been a] strain for him – having to wake a kid when they're tired because of school.
"I still count myself as having an illness because I have to take so much medication every day."
"[My body] didn't feel like [mine] for a long time"
Now 26 years old, Jake is doing well.
Over the years, he's worked to "rebuild" his relationship with his body. Due to the fact he was so unwell, it didn't feel like his for a long time.
"When you're young you're climbing trees, falling over, running around... all that kind of stuff... and that's when you get used to your body and what it is. But [because I was ill] I didn't really get that.
"Because it's been my whole life – it didn't come out of nowhere – I normalised it. But if you normalise something that is … very intense and isn't what a lot of people go through then, when you come back to reality, that can be really hard."
Jake's first Race for the Kids
Jake and his family have done various fundraising activities for GOSH over the years. On 8 October he'll be heading to Hyde Park to cover 5k as part of RBC Race for the Kids.
Jake decided to decided to sign up for our fun run after seeing a poster advertising it in a train station.
"I'd had a bit of a rubbish day... I was walking out of Blackfriars station when I saw [it]. I don't what it was, but I just got really super emotional and thought 'I should do that'."
Jake signed up almost immediately, created his fundraising page and people started donating. "[It] was lovely," he says.
"Money that goes to GOSH Charity goes into so many places that you would never even think of," he says. "Like a parent being able to stay in a hotel opposite the hospital, during one of the most horrendous times in that family's life...Your money goes so far."
Related content