Clothing Collections
Recycling business 'Collection 4 Clothes' are supporting Great Ormond Street Hospital Children's Charity (GOSH) from 2022!
Their goal is to help GOSH Charity raise much-needed funds through collections of pre-loved clothes from your home. We are thrilled that Collection 4 Clothes will be working in local communities to raise vital funds for the hospital, to make a difference to the lives of seriously ill children from across the UK.
How does it work?
Collection 4 Clothes offer a free and efficient service. They encourage anyone interested to donate their pre-loved clothing, fashion accessories, bric-a-brac and unwanted gifts. You can be assured your pre-loved items will very quickly become someone else's treasure. In return, you will have helped raise much-needed funds for GOSH Charity.
Collection 4 Clothes staff always wear clearly branded "Collection 4 Clothes" t-shirts and carry a photo ID. The delivery vans are also clearly marked with the Collection 4 Clothes logo and contact number and the clothing bags have the logo as well as GOSH Charity's registered charity number.
How can I get involved?
Look out for Collection 4 Clothes branded collection bags that drop on your doormat or email info@collection4clothes.co.uk to arrange a collection.
Fill the bag with your pre-loved items
Leave it on your doorstep on the day of your scheduled collection
Be proud of yourself for helping the environment and for helping raise funds for GOSH Charity.
Raising money for GOSH Charity and recycling
We are proud of this win-win solution that provides environmental benefits, raises money and recycles clothes into lovable items for someone else.
If you have any questions or concerns, please feel free to get in contact with our Supporter Care team on 020 3841 3131 or email supporter.care@gosh.org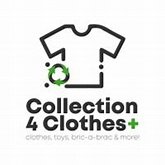 Collection4Clothes - Teams Operating Postcodes (.pdf) (100.5 KB)